PARQUET DELIVERY DETAILS

Delivery Date:
You will need to contact us with a proposed delivery date for receiving your goods. We will require approximately 3-5 working days to process your order and then another 3 days for the delivery process, therefore please anticipate 6-8 days at the earliest before receiving your goods. Someone must be there to receive, and sign for, the pallet. If you are not present to take delivery, the courier will charge you £35 second delivery to return since they will not leave it unattended.
We will store* your pallet of parquet until you are ready to undertake your planned work. We are happy to do this at no charge for up to six months. Please advise us that you would like us to do this and update us. You must take responsibility for contacting us with good and reasonable notice (at least 5 working days) to plan your date of delivery.
Courier Company:
The courier company we use is Palletline, a network of couriers which sub-contract to local delivery firms throughout the country. The delivery you pay for is an economy rate, which is normally 48 hours from despatch to arrival, during a working week, but it may be longer in outlying areas.
Delivery Times:
We can request a timed delivery however that is an extra cost. If however you want a Saturday, next day or specified time delivery, then we can get a quote for you, as there are charges attached to those services.
Method of Delivery:
You pay for a tail-lift and pallet-truck, with delivery to the kerbside. The drivers are not expected, or indeed paid, to lift, as these pallets weigh anything between 150 kg to 1000 kg. Please be aware that pallets are wider than most doorways and some gateways, so be prepared to transport your block after the haulier has delivered. However we find wheelbarrows and wheelie-bins work well!
If there is anything that may affect the delivery of the pallet, for example, tight turning where a tail-lift truck may not be able to manoeuvre or a very steep drive or other access problems to consider, then please report this to us and we will pass special instructions on to the courier for you. If the courier is not aware of the difficulties he may encounter it may cause delays and result in your pallet being left at the kerb-side.
Getting In Touch With Palletline:
In most cases we will have emailed you with a tracking number so that you can see the progress of your pallet. The haulier should get in touch with you to arrange the estimated time of arrival of your delivery.
If you have any complaint about the courier, please contact them directly. This is not something we can deal with because we are not part of that network. We simply arrange the service on your behalf.
Care Of Your Parquet Blocks:
Once received, if you want to keep the parquet blocks in good condition plan to have them under cover, in a garage for example, preferably in the house. The pallet comes shrink-wrapped but a moist atmosphere, even if covered by a tarpaulin, will not be ideal for more than a day or two.
Acclimatisation:
You should acclimatise the parquet in the room that it is to be fitted. Most particularly if you are using parquet blocks with under-floor heating. This should be for at least 3-4 weeks before-hand to get any moisture content down to acceptable levels. These levels are the relative humidity between the blocks and the environment in which it will be fitted. Under-floor heating is a directly conducted heat consequently aggressive for wood. It's important to follow your fitter's instructions to avoid later shrinkage.
If not using under-floor heating it is still advisable to acclimatise your parquet but for a shorter time – 2 weeks is sensible however the longer the better. Stack the blocks in small piles, 'jenga' style,  allowing air to circulate around each pile, rather than store them in one large block. Ensure all the wet works are completed. Everywhere must be thoroughly dry or the blocks will absorb the humidity and set back your fitting plans.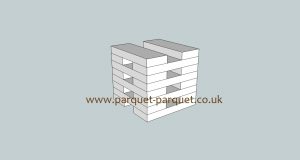 *A note about storage:
We can offer you a free storage service to assist with your project timings. However if, for any reason your project no longer goes ahead we can only offer to sell your block for you or send it to you. Most importantly, whilst we are storing it free of charge, it is your purchased parquet.
Finally, any problems by all means give us a call 01507 313 470.
DELIVERY RATES 

2019

:
Courier rate for small purchases: £15.50 per sq m
THERE IS A SMALL QUANTITIES SURCHARGE OF £25 incl VAT
PALLET RATES UP TO 1000 KG:
Please note: Saturday deliveries are double the first rate
£60 ECONOMY – £69 NEXT DAY:
AL – B – BA – BB – BD – BH – BL – BN – BR – BS – CB – CF – CH – CM – CO – CR
CT – CV –CW- DA – DE – DH – DL – DN1-13 & DN22 – DT – DY – EN – FY – GL – GU – HA HD – HG – HP – HR – HX – IG – IP – KT – L – LA – LE – LS – LU – M – ME – MK – NE NG- NN – NP – NR – OL – OX – PE – PO – (EXCLUDING ISLE OF WIGHT) – PR – RG – RH – RM -S – SG – SK – SL – SM – SN – SO – SP – SR – SS – ST –
SY1-22 – TF – TN – TS – TW – UB – WA – WD – WF – WN – WR – WS – WV -YO
£70 ECONOMY – £80 NEXT DAY:
INNER LONDON POSTCODES:
E – EC – N – NW – SE – SW – W – WC
£69 ECONOMY – £89 NEXT DAY:
CA – DD1-7 – DG – EH – EX – FK – G – KA – KY – LD – LL – ML – PA1-19
(PA19 UPWARDS-SEE SCHEDULE) – PH1-5 – PL – SA – SY22 UPWARDS
TA – TD – TQ – TR
£55 PER PLT UP TO 1250KG:
HU – LN – DN14 – 21 & DN23-42
POA:
AB – DD – IV – KW – PH
OTHER SERVICES:
ULLAPOOL & SCOURIE 2-4 DAY SERVICE – £180.00
PA19 UPWARDS 2-4 DAY SERVICE – £180.00
KW POSTCODES MAINLAND 2-4 DAY SERVICE – £180.00
KW ORKNEY ISLANDS 4-5 DAY SERVICE – £180.00
ZE SHETLAND ISLANDS 4-5 DAY SERVICE – £180.00
ISLE OF:
JERSEY & GUERNSEY 3 DAY SERVICE –
£180.00 UP TO 1000 kg
ISLE OF MAN 3 DAY SERVICE –
£180.00 UP TO 1000 kg
ISLE OF WIGHT 2 DAY SERVICE –
£130.00 UP TO 1000 kg
NORTHERN IRELAND 3 DAY SERVICE – £125.00 UP TO 1000 kg
REPUBLIC OF IRELAND 3 DAY SERVICE – £150.00 UP TO 1000 kg